So, I'm going to get on my soapbox again today, because it's something that gets to me almost every day, and I think it's time someone stands up and says something.
PLEASE NOTE: DIABETES IS NOT CAUSED BY EATING COOKIES, DRINKING SODA, OR INGESTING MILKSHAKES, EVEN BACON MILKSHAKES. PEOPLE WITH DIABETES--EVEN TYPE 2 DIABETICS--DID NOT BRING THIS ON THEMSELVES, NEITHER SHOULD YOU OR THE MEDIA BE BLAMING THEM FOR IT.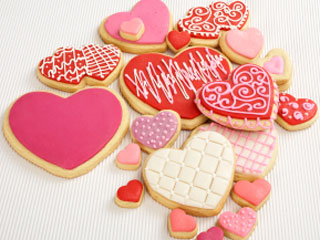 I am thinking about this today because of two incidents that happened over the weekend. On Friday after Renovatus I was helping to clean up the snacks. The snack goddesses this week brought little brownies, red velvet cupcakes, sugar cookies, and juice pouches. They bought just about the right amount, so there was little to clean up, which I always like. As I was cleaning up, Chris came over and took the last cookie, which was good, since there were then only 2 brownies left. When he walked by, I handed him the last juice pouch and said, "Take this, too." He answered with, "Are you trying to give me diabetes?" "Diabetes is NOT caused by eating cookies and drinking juice!" I exclaimed, and then I added, "Don't get me started, Mister." I said it in a good-natured way, but inside I was seething. DIABETES IS NOT CAUSED BY EATING COOKIES AND DRINKING JUICE!
Then this morning a Facebook friend of mine posted something about the new Jack-in-the-Box bacon-flavored milkshake. She is in medical school, so her post said, " This sounds very smart, but the fact is, she was still saying that drinking milkshakes causes diabetes. So I posted as such. More specifically, I said, "
Not that milkshakes cause diabetes. But thanks for perpetuating the myth and continuing to stigmatize us. Oh, if only I hadn't eaten that milkshake, I wouldn't have to inject myself 4 times a day." I know that sounds kind-of harsh, but I think if a medical student is so taken in by the myth, what hope do we have of educating people?
Luckily, I was right about the way that she would take my words, and we were able to have a short exchange about stigmatizing people and being careful about our words. DIABETES IS NOT CAUSED BY INGESTING MILKSHAKES, EVEN BACON-FLAVORED MILKSHAKES!
But it makes me so tired. I do not want to be a crusader. Does having diabetes me that I have to take on this role, too? It reminds me of when I decided to get my Master of Pastoral Studies in 2001. I really just wanted to study the ministry because I felt a true calling to it and wanted to learn more about it. Little did I know that I would have to spend the next 2 years defending my decision to people I barely knew, including the one person who told me that the "only" reason I wanted to be a pastor was because I wanted to "be a man."
So here I am in this role. I did not ask for it, but I am not going to shirk from it either. If you have any questions about diabetes, I would love to have a conversation with you. In the meantime, remember,
PEOPLE WITH DIABETES--EVEN TYPE 2 DIABETICS--DID NOT BRING THIS ON THEMSELVES, NEITHER SHOULD YOU OR THE MEDIA BE BLAMING THEM FOR IT